Postcards from Europe
Amelia Reeves writes on this striking exhibition taking place in the Alison Richard Building of Cambridge University
März 2022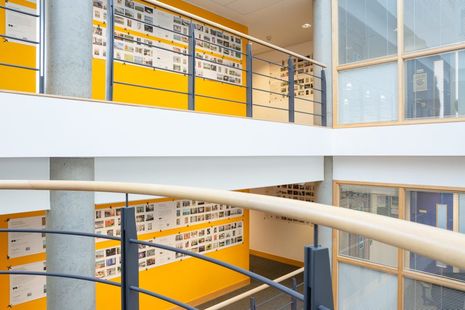 First going into the ARB two weeks ago, it reminded me a little of my fridge at home: both are crammed with postcards. From more traditional tourist fare to family memories, the new exhibition Postcards from Europe celebrates the postcard in all its diverse forms, highlighting its potential for social connection across physical and cultural borders. The exhibition has been curated by Shutter Hub, and features the work of over 150 photographers working across Europe in the period 2016 to 2020. It is alternately termed Postcards from Europe and Great Britain as it features around 200 images from their prior Postcards from Great Britain exhibitions, as well as several hundred new inclusions.
"This exhibition also invites a deliberation over how we engage with photography and its role in society"
The postcard is a form of art that almost all of us will have had encountered. As a child, sending and receiving postcards was a small joy and a moment of pride, sharing a holiday memory through a beach snap with the obligatory 'wish you were here'. At Cambridge, the shops abound with picture-perfect chapel shots, one of which I dutifully sent to my grandparents in my first week here. Like any other postcard, the images in the exhibition are snapshots of moments and memories, intertwined through travel with the places at which they were taken.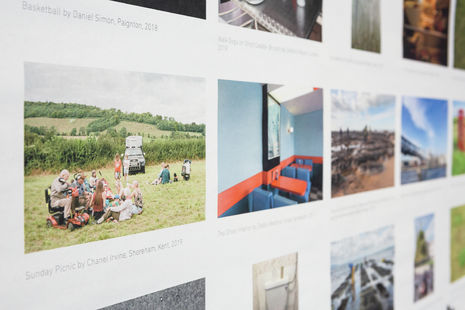 The exhibition's stated aim is 'to share aspects of European culture, spanning all genres of photography, and collating images that include social, political, historical, traditional and observational responses.' The images therefore vary broadly in composition and are not grouped by theme, so each panel features a set of unique scenes; from ruins in Rhodes to a kitchen worktop in Berlin, traditional 'marvels' and everyday scenes are represented equally. There are images exploring interaction with art, for example Werner Mansholt's shot of a man viewing paintings where he almost blends in with the subjects depicted. The most persistent theme is human interest, whether Sam Davies' portrait shots of skiers in the Lechtal Valley or a family gathering in Bulgaria captured by Iliyana Grigorova.
"The postcard is a form of art that almost all of us will have had contact with"
This was an inadvertently timely exhibition, with COVID both taking its toll on holidays and imposing general physical distance. COVID looms large in the images literally and figuratively, from Giuseppe Francavilla's taped-off bench in Rome to Judith Parrott's lonely chair in La Palma. Some unique shots are made possible by the desertion of city centres in 2020, but monuments devoid of tourists feel almost eerie, especially among a corpus of images which focus so heavily on connection and exchange.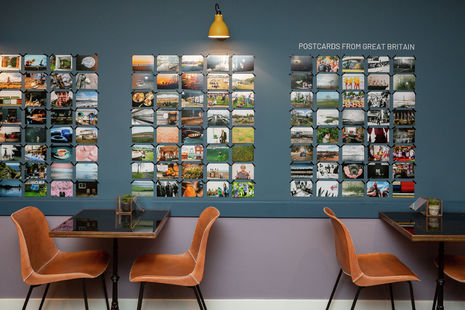 While some are more akin to postcards you might buy, many of the postcards are deliberately and uniquely personal, a window into the photographer's life and experiences. By inviting reflection on postcards, this exhibition invites consideration of image-sharing more generally. For me, choosing a postcard from a school trip was serious business. Will future schoolchildren have the same issue? Nowadays, although I do send postcards on occasion, most of my image sharing is done via social media, which is certainly much quicker and sometimes much cheaper. Seeing the physical postcards forces a reconsideration, because physical photos are that much more deliberate. The process of choosing one image to represent a trip, a place, or a group of people, rather than sending a Whatsapp barrage, is significant to the photographer's memory and relationship to the postcard receiver. Linked with images like Mansholt's, then, this exhibition also invites a deliberation over how we engage with photography and its role in society.